"Any old vacancies that come [on the market]if the fit-outs are older than five or seven years, then they need to be refitted," he said.
"It's a must in this current environment because anything that presents as just four walls and empty space will be left behind. People know what they want – lighter, brighter, fresher and collaborative spaces."
The Property Council report pointed to an oversupply of second-grade office space, with 14 per cent of the lesser-grade buildings empty compared to 12 per cent of prime buildings. The only category of office space with increased demand in the past six months was "prime stock" luxury buildings.
"It's like the residential market these days; if it's not dressed up, it's going to struggle," Martinez said.
Ashley Buller, Victorian head of office leasing for commercial real estate agency CBRE, said his firm was also aware of the demand for high-quality offices.
"High-rise, premium-grade rents in Melbourne's east end have risen strongly, with a number of transactions reflecting 15-25 per cent improvements against pre-COVID levels," he said.
The increase in empty offices continued even though the number of people returning to work in city offices stalled. According to the lobby group's most recent data, office occupancy stalled at 49 per cent in June.
"We're in a bit of a holding pattern at the moment because we've clearly got a COVID spike in the community, [and] some beefed up health messaging and advice. But that's not going to last forever," said Lowcock.
"We're having a tricky winter, but from what we've seen in other cities, we definitely think Melbourne is capable of further increases in office occupancy."
Department of Transport statistics show patronage on Melbourne's trains and trams has increased since six months ago, but remains well below pre-pandemic levels. In July, average weekday patronage on Metro Trains was 58 per cent of pre-COVID levels, while trams were at 67 per cent, and V/Line services were at 55 per cent.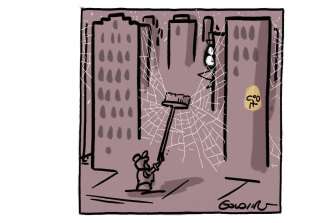 Data shows pedestrian numbers have increased in the Melbourne CBD in the past six months, but there are half as many people on foot as there were before COVID-19.
According to the City of Melbourne, the average number of pedestrians using the Flinders Street Station underpass between 6am and 10pm jumped 63 per cent from 11,012 people in February to 17,247 in July.
loading
Although demand for offices remains steady, Lowcock said the high amount of subleasing in Melbourne compared to other cities was "some cause for concern" because it indicated tenants had too much unused space.
The Morning Edition newsletter is our guide to the day's most important and interesting stories, analysis and insights. Sign up here.