She was sent a final version of the panel report on June 15, placing Barilaro as the first-ranked candidate, several days after he had already signed a contract on June 9.
"I wasn't aware that an offer had been made when I received this, and I wasn't aware that Mr Barilaro [had signed a] contract," Lo said.
She said she was never told that one of Barilaro's informal referees was Ayres, the minister in charge of the portfolio.
Lo also said the other independent panel member, Warwick Smith, had asked her to put on the record that "had he known then what he knows now, he also would not have endorsed the report" recommending Barilaro.
She still believed Barilaro would have been successful in the US job, but maintained serious concerns about the process that placed him in the role.
The government had been highly critical of the committee for not immediately calling the commissioner to the inquiry.
It also raised concerns about the treatment of the third-ranked candidate, who had applied in an earlier recruitment round. She said the panel was given her first interview report, without being told it had been substantially downgraded for the second review.
"I had trusted that the first assessment would be carried over," she said.
"I should have asked to see the first panel's report. I deeply regret not doing so, and I've learned a hard lesson."
Earlier, Investment NSW managing director Kylie Bell told the inquiry that Cole, a global executive, was initially ranked higher than Barilaro because of a preference to appoint a female to the role.
Cole and Barilaro were the top two candidates from a recruitment round for the New York trade commissioner role.
"[Cole] was an excellent candidate, no doubt," Bell said on Friday. "I suspect [the recruitment manager] was trying to help us fulfill our mandate of looking at someone from a diverse background."
Bell added that someone "should not be employed because they're a female if they are not the best person for the job".
Bell on Friday said she dismissed an unflattering report about Barilaro from the recruitment firm, arguing it reflected an "unconscious bias" against him.
Leader of the Opposition in the upper house Penny Sharpe asked if she was suggesting the firm "did not like him".
"Potentially," Bell said.
Bell said she conducted an informal referee check for Cole, who received a "glowing" reference and had strong business credentials in Asia, but that did not make Cole right for the US role.
"Because someone is a fantastic business person in Hong Kong or China does not mean they're going to succeed in New York."
Asked if Barilaro had the requisite international experience, Bell conceded he had not worked offshore but said he had led "a small business, that he took overseas as an exporting business".
The inquiry on Friday also heard evidence from Barilaro's former chief of staff Siobhan Hamblin, who worked for him between February 2020 and October 2021.
Hamblin told the committee she urged Barilaro not to quit politics amid the COVID crisis for the good of the government and the state, after the shock resignation of premier Gladys Berejiklian on October 1.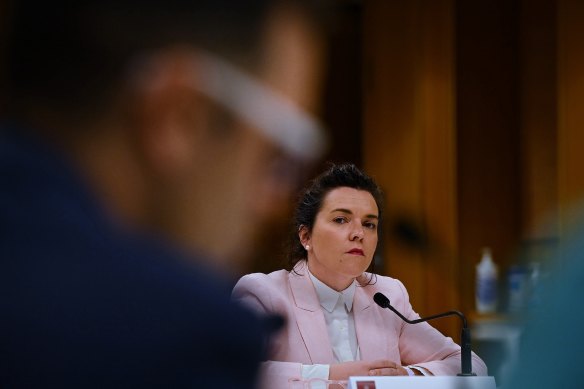 "My advice to Mr Barilaro on that day was that any plans that you may have to leave politics should be shelved for the sake of stable government and for the people of NSW, as we were still in the grips of a lockdown".
Barilaro did not heed her advice and ultimately followed through with his resignation two days later.
loading
Hamblin said Barilaro never raised with her any personal interest in the trade roles.
Barilaro is due to front the inquiry on Monday.
The Morning Edition newsletter is our guide to the day's most important and interesting stories, analysis and insights. Sign up here.