Hace unos meses os hablé de la visita de Elvis Presley a la Casa Blanca, hoy Dailyjuez vuelve a retrocer en el tiempo para recordar a otro invitado de honor del número 1.600 de Pennsylvania Avenue: el cantante Michael Jackson. 
El cantante de "Thriller" visitó la Casa Blanca en dos ocasiones: la primera, en mayo de 1984 cuando el republicano Ronald Reagan era presidente y la segunda, en abril de 1990 cuando el republicano George H. W. Bush (padre) ocupaba el Despacho Oval. El "rey del pop" también cantó en la ceremonia de investidura del presidente demócrata Bill Clinton (merece la pena ver el vídeo sólo por ver el peinado que lleva Hillary Clinton).
Reagan le entregó a Michael Jackson una placa de agradecimiento por su contribución al programa de la Casa Blanca para concienciar a lós jóvenes de los peligros de conducir bajo los efectos del alcohol o las drogas. Y Bush padre le nombró "artista de la década".
Tras la muerte del cantante, el blog de The New York Times "The Caucus" reveló que no todos eran fans de Michael Jackson en la Casa Blanca en la época de Reagan.  John G. Roberts, por entonces ayudante de Reagan y futuro juez presidente del Tribunal Supremo de Estados Unidos, no era precisamente un fan del cantante de "Bad", según el archivo de la Casa Blanca. .
Por lo visto, pidieron  a  la oficina del presidente  si Reagan podía escribir una carta a Michael Jackson que aparecería publicada en un número especial de la revista "Billboard" junto a las fotografías de su visita a la Casa Blanca, pero Roberts se negó porque, a su juicio, la oficina del presidente de Estados Unidos "no era  un anexo de la empresa de relaciones públicas de Michael Jackson".
Este es memorandum que escribió Roberts en junio de 1984, un mes después de que Michael Jackson visitara la Casa Blanca:
I recognize that I am something of a vox clamans in terris in this area, but enough is enough. The Office of Presidential Correspondence is not yet an adjunct of Michael Jackson's PR firm. "Billboard" can quite adequately cover the event by reproducing the award citation and/or reporting the President's remarks. (As you know, there is very little to report about Mr. Jackson's remarks.) There is absolutely no need for an additional presidential message. A memorandum for Presidential Correspondence objecting to the letter is attached for your review and signature.
Al final, siguieron el consejo de Roberts, y Reagan no llegó a firmar la carta, de la que había un borrador.
Pero el manager de Michael Jackson, Frank Dileo, no cejaba en su empeño. Tres meses después escribió una carta a la Casa Blanca invitando a Reagan al concierto que el cantante daba en Washington dentro de su "Victory Tour" después de que el presidente le sugeriera cuando visitó la Casa Blanca añadir fechas en su lista de conciertos para no defraudar a sus fans de Washington, DC. La Casa Blanca rechazó amablemente la invitación y, siguiendo una vez más el consejo de Roberts, tampoco enviaron a Jackson una carta saludandolo como pedía el entorno del cantante:
I hate to sound like one of Mr. Jackson's records, constantly repeating the same refrain, but I recommend that we not approve this letter. Sometimes people need to be reminded of the obvious: whatever its status as a cultural phenomenon, the Jackson concert tour is a massive commercial undertaking. The tour will do quite well financially by coming to Washington, and there is no need for the President to applaud such enlightened self-interest. Frankly, I find the obsequious attitude of some members of the White House staff toward Mr. Jackson's attendants, and the fawning posture they would have the President of the United States adopt, more than a little embarrassing.

It is also important to consider the precedent that would be set by such a letter. In today's Post there were already reports that some youngsters were turning away from Mr. Jackson in favor of a newcomer who goes by the name "Prince," and is apparently planning a Washington concert. Will he receive a Presidential letter? How will we decide which performers do and which do not?
En un memorandum interno, Roberts volvió a insistir sobre las razones de su rechazo:
I recommend that no such letter be sent. The Jackson tour, whatever stature it may have attained as a cultural phenomenon, is a massive commercial undertaking. The visit of the tour to Washington was not an eleemosynary gesture; it was a calculated commercial decision that does not warrant gratitude from our Nation's Chief Executive. Such a letter would also create a bad precedent, as other popular performers would either expect or demand similar treatment. Why, for example, was no letter sent to Mr. Bruce Springsteen, whose patriotic tour recently visited the area? Finally, the President, in my view, has done quite enough in the way of thanking and congratulating the Jacksons, and anything more would begin to look like unbecoming fawning.
De todas formas, no hay quien entienda la fijación que tenía Michael Jackson con que Reagan le escribiera cartas porque ya tenía una. Reagan había escrito una carta a Jackson en febrero de 1984 después de que éste se quemara el pelo en un accidente mientras grababa un anuncio de Pepsi. Esta era la misiva:
The White House

Washington

February 1, 1984

Dear Michael:

I was pleased to learn that you were not seriously hurt in your recent accident. I know from experience that these things can happen on the set—no matter how much cautioned is exercised.

All over America, millions of people look up to you as an example. Your deep faith in God and adherence to traditional values are an inspiration to us all, especially young people searching for something real to believe in.

You've gained quite a number of fans along the road since "I Want You Back" and Nancy and I are among them.

Keep up the good work Michael. We're very happy for you.

Sincerely,

Ronald Reagan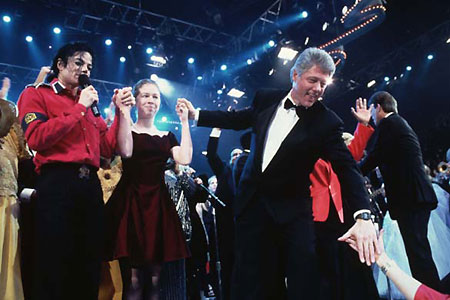 March 31, 2010 at 4:14 pm
Comment (1)